X-C Ski at Waterville Valley - March 27, 2011

Activity, photos, and report by Ken L.
Any time you can get out and go cross-country skiing with great conditions after about mid March is a gift.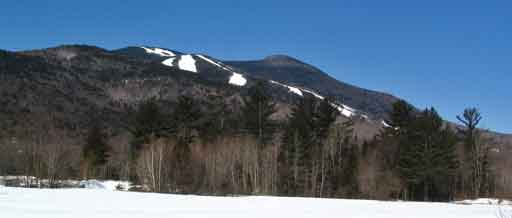 Alpine skiing at Waterville Valley
Eek! Winter was almost over, and there weren't enough new scratches on Your Webmaster's X-C skis! With the deep base and colder weather, it was time to head north to Waterville Valley's Nordic Center for some X-C skiing, perhaps the last day of the season.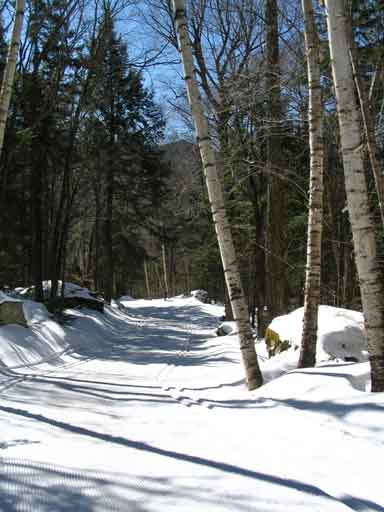 Wow...
The weather was more like February than March. It was chilly and breezy. There was next to no snow melt on the trail. In fact, the trail was a tad icy. For March 27? Yep.
Your Webmaster took the south side trails, never having done them before, then headed up Swan's Way to The Yurt and the trails on the north side.


The Drake's Brook ski trail goes by this hiking trail junction.
Look familiar, Jennings Peak / Sandwich Mt. fans?


Drake's brook, along an unmaintained trail...which includes a climb up to Rte. 49,
crossing over, and climbing back down the other side


Finally...a break at The Yurt
After skiing around in the north for a bit, Your Webmaster took the greenies back to the Golf Course.

Back at the car after several hours out in the woods...and some 27 or 28 kilometers. It was soon time for the Mad River Tavern! Yay!

During this "final" day of X-C skiing, I met many people out there who were also shocked at the conditions for late March and were thankful for the day out.

After all the annoyance we had with the snow this winter, it was nice to be able to just get out and enjoy it.
And then there was another snowstorm on April 1...which prompted Your Webmaster to return to Waterville Valley to get in some additional trails on April 2.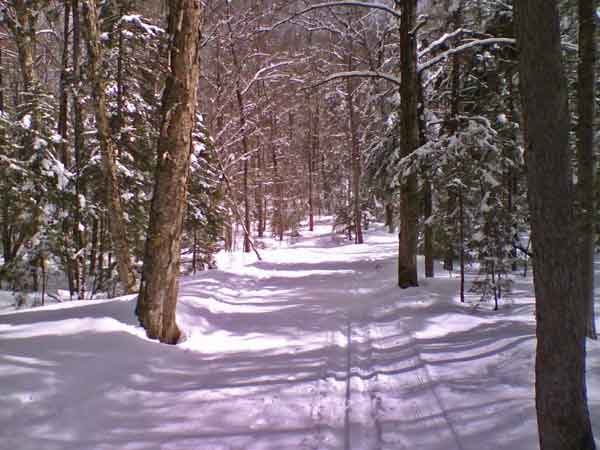 Wow...
It was beautiful in the woods with all the new snow on the trees. Conditions were outstanding. Yes, the snow was heavy and wet, but that made the hills really easy. :-)
On the way back to the trail center after about 32 kilometers in the woods, Your Webmaster didn't want to take his skis off, so he broke the 4pm curfew and went around the Pond Loop as the final hurrah for the season. Waterville Valley's last day of Nordic skiing was April 3.
Mt. Watatic - March 20, 2011

Activity, photos, and report by Ken L.
It was to be a great day for a hike up Mt. Watatic along the Wapack and Midstate Trails in north-central Mass.

'til Your Webmaster woke up to a busted furnace.

Welcoming Committee Kathy K., Alex, Leslie, and Leslie's pup Maddie decided to go anyway, which was great!

So off they went at 10am while Your Webmaster waited for the furnace repair guy.

At 10am--right on time--the furnace repair guy showed up, and by 10:20am Your Webmaster was writing a check to pay the bill, the condo warming back up from 57 degrees to its usual 60.

That settled, Your Webmaster looked outside to a beautiful, sunny day. And he decided to head out and do something...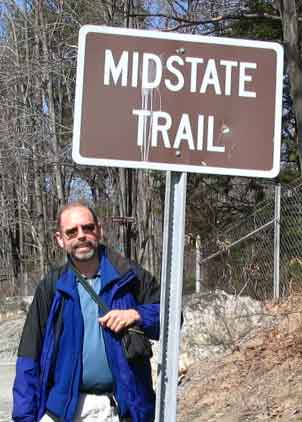 ...yep, Mt. Watatic, arriving about two hours late, but, hey, a solo hike's not so bad!
Mt. Watatic's main parking lot is on Rte. 119. From there the trail follows an old road and turns sharply right, roughly going in parallel to Rte. 119 up to the summit. There's a spur to a lower peak, and it's great to sit there a while and catch some sun!


Mt. Wachusett

Leading down from the summit is an access road, and after following the road for only a few feet you pick up the Wapack again, marked by its yellow triangle. This part of the trail leads down to Nutting Hill and another old road, and from there you can make a sharp left turn or continue on to the NH/MA state line, take a left there, and head back along the State Line Trail.

All in all, a great walk. We even did it at night once!
So that's the "usual" way we hike Mt. Watatic, since the "ups" are steep when you hike the loop counter-clockwise. But what if Your Webmaster, being two hours late, did the hike in reverse? Would he run into his fellow GONewEnglanders?
Your Webmaster hiked straight in to the State Line Trail, went to the state line, and was approaching Nutting Hill when...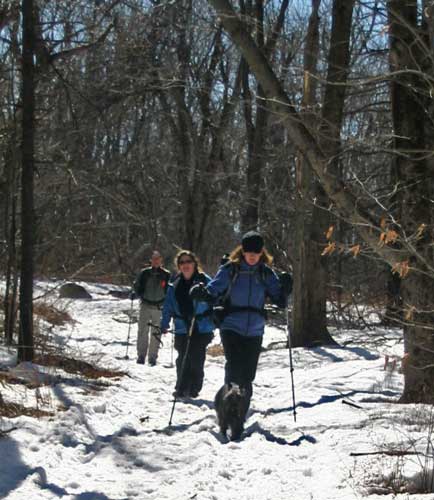 There were the GONewEnglanders who got started at 10am!
We chatted for a while, got the obligatory "everyone get into the picture" picture...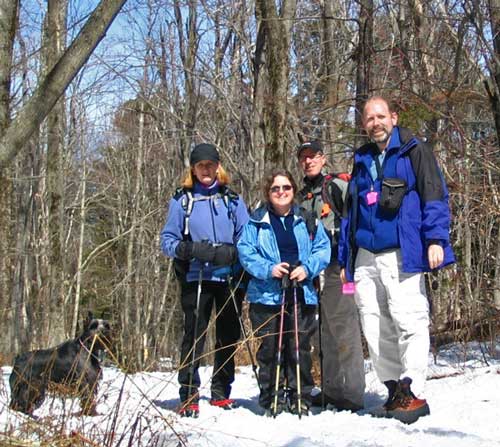 Maddy, Leslie, Kathy, Alex, Your Webmaster
...and off we went down the trail.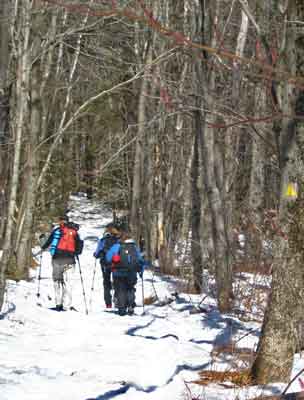 They returned to the parking lot, while I went on to the top of Mt. Watatic.

Thankful for the Microspikes!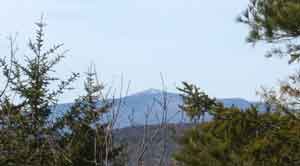 Mt. Monadnock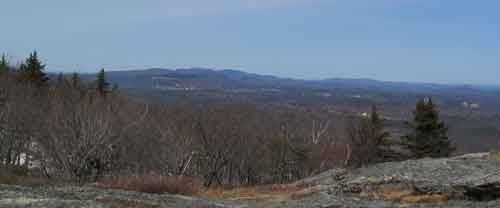 Heading into NH - Among the highlights are Pratt, Stony Top, Barrett,
Windblown X-C Ski Area, Kidder...
The Mt. Watatic loop is great...not too strenuous, but you are rewarded with some nice views and a decent day out. Be aware, though, that the trail is usually quite crowded, especially in the warm weather. No real surprise why.
Beaver Brook - March 12, 2011

Activity, photos, and report by Ken L.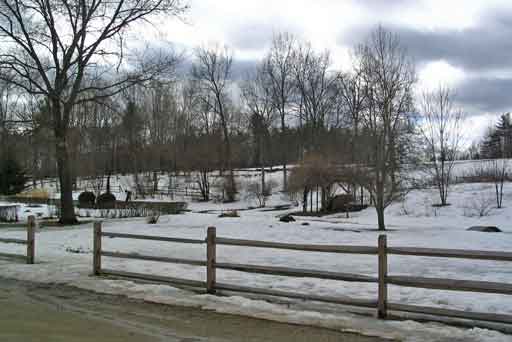 Grounds of the Maple Hill Farm
James H. and Your Webmaster drove over to Beaver Brook in Hollis, NH.

The weather was great for a day out along the trails at Beaver Brook...your typical late winter day. The challenge, however was...
Melt water from the heavy winter snows had overtaken some of the trails (like Shoen "Road" in the picture above), but the majority of the trails were still snow covered with a decent depth of nearly a foot in spots. So we did our best to stay in the center of the trail where it was packed down. Walking to either side would result in a boot full of snow! I'm glad I had my Microspikes.
Near the Maple Hill Farm where we started, it's clear it's maple sugaring season!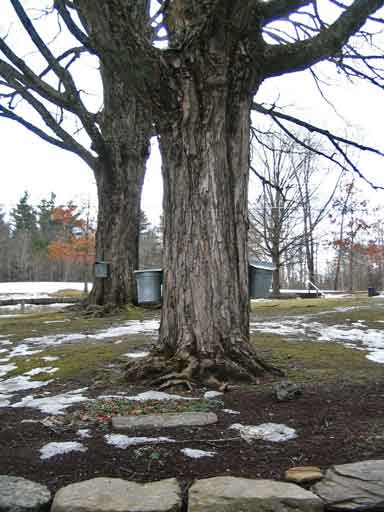 Maple sugaring for humans...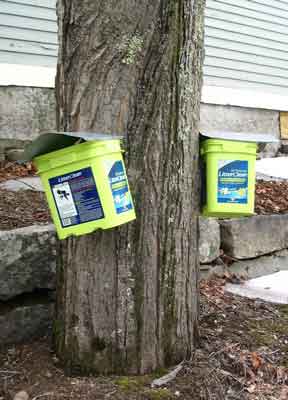 ...and for cats.
James and I made our way out 'round Spatterdock Pond on our way toward Rte. 130 from the west side of the larger section of Beaver Brook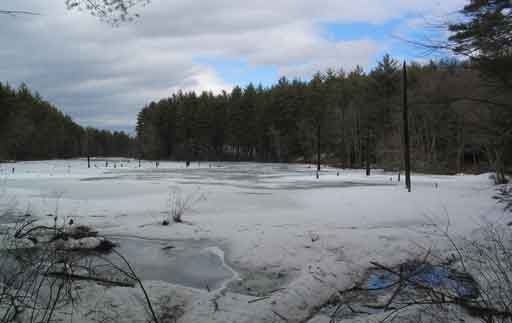 James had to bow out a bit early, but Your Webmaster continued down to the brook...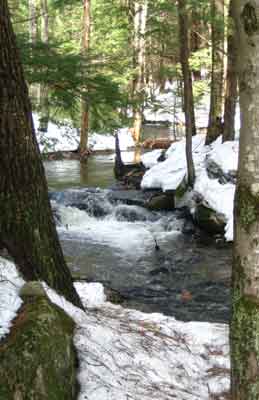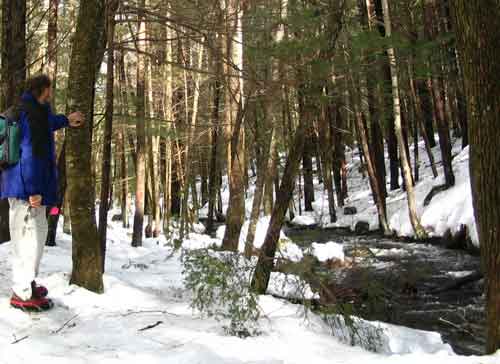 ...and then up to Wildlife Pond.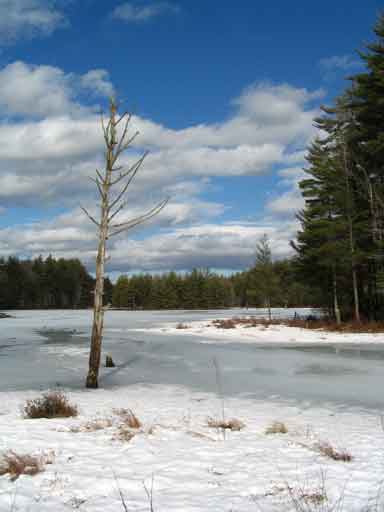 Beaver Brook is a great place to visit any time of the year.

It's a few miles off Rte. 3 from Nashua, NH...but well worth the trip.

Print out the map that's available on-line, and plan to stay several hours.

Bring your dog, bring some snacks...and...this time of year...bring your waterproof boots and Microspikes!
Windblown X-C Ski - March 5, 2011

Activity, photos, and report by Ken L.
Windblown is a cross-country ski center in New Ipswich, NH. There are miles of trails, most with slight hills, some larger hills, and...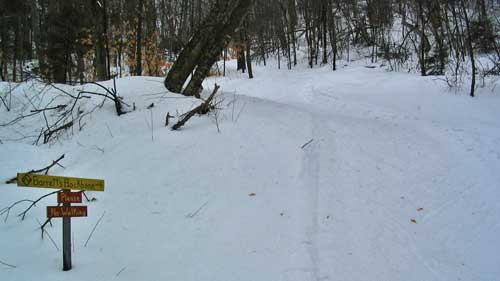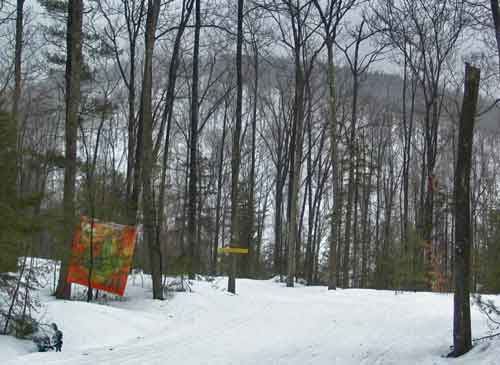 ...some stuff Your Webmaster only hikes (with boots--no skis!) during the warmer weather. Yes, there are X-C trails that take over part of the Wapack and climb Barrett Mt. during the winter. So Windblown has something for everyone!
The day started out cloudy, and it drizzled throughout the morning. Fortunately the winds were light, and it wasn't cold, and Your Webmaster hit the trails. The snow conditions were really fast, but the surface was wet granular (not slush, thankfully), so control was really easy.
Your Webmaster even got some air!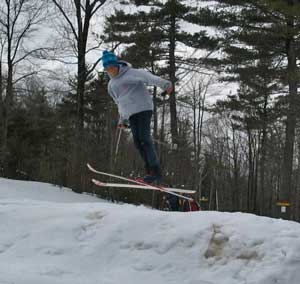 ...OK, well, not really. Some kids were on the hill near the base lodge and doing jumps and turns over a snowbank. The guy in the photo--facing uphill in the shot--did a full 360. Nice!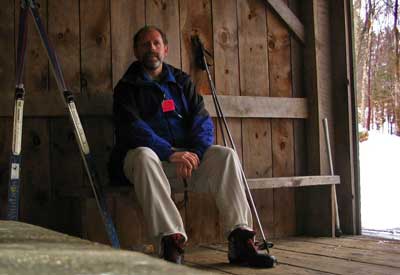 Nah, the only "air" Your Webmaster gets is the fresh air out on the trail. After a while, it was time to stop and just enjoy the quiet in one of the many shelters in the trail system...and maybe dry off a little from the rain.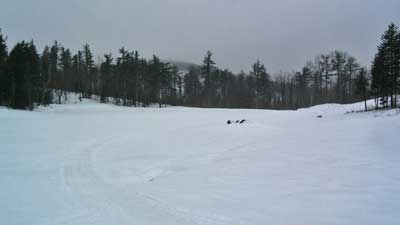 Just crossed the swimming pond
The clouds and drizzle remained for most of the morning, but around noontime it started to dry out a little. Then a little before two o'clock Your Webmaster ran into Diane, and we went out to do some more trails.
The sun broke through for a short time, and we had some nice blue sky...if a bit too brief.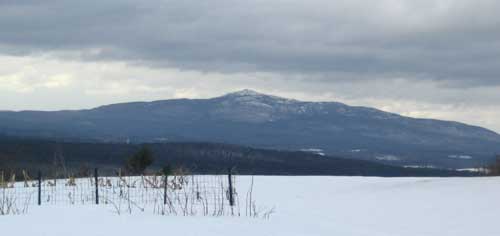 The wind picked up a bit, and it may have gotten a degree or two cooler, but the rain held off for the afternoon.
Shortly before the center closed for the day, Diane and I went back to the lodge to warm up by the fire.
Nice day of skiing with fast conditions but completely controllable!
DELIGHTFUL FIXER-UPPER FOR SALE!

Does anyone ever get mad at you when you leave a door open: "What, do you live in a barn?"

Now you can say YES!

Well, kinda. This shelter--complete with roof buckling from the snow--is all yours! The address is the Old Stagecoach Road Ski Trail. Check it out!
Bartlett Inn Weekend - January 8-10, 2011
Activity, photos, and report by Ken L.
(Apologies for the poor photos, courtesy of an old cell phone.)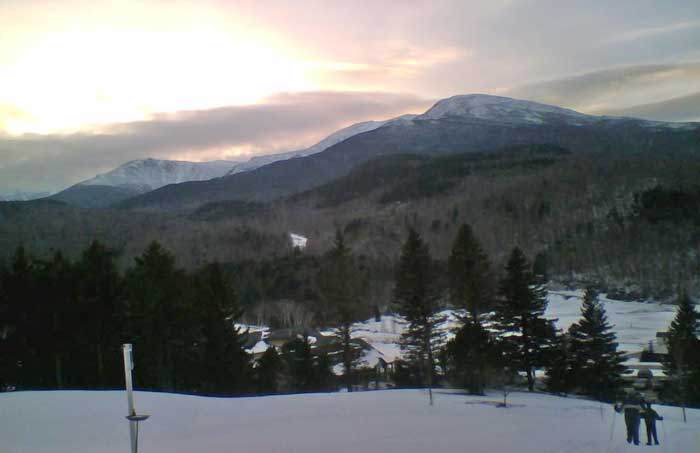 Nick and Miriam invited us to The Bartlett Inn for a delightful weekend to celebrate their 9th anniversary as innkeepers! The amount of work they put into the Inn over the years is incredible, and it's great to see them doing so well. They thought they'd have a special weekend for GONewEnglanders and other friends, and several of us took them up on it!
Saturday we went to nearby Great Glen Trails for tubing, snowshoeing, and X-C skiing.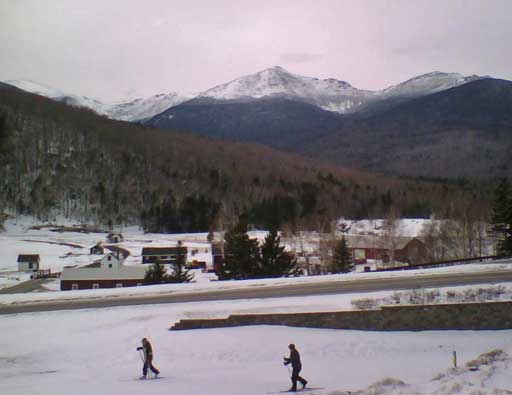 Nick and Miriam had a nice pasta dinner for us on Saturday evening.
On Sunday Your Webmaster and friend Kris went over to Diana's Baths, which were icy, as expected. At that time (early January) there wasn't much snow in the north country. The golf course in Jackson had no snow at all! But then, of course, came the snow...It *does* end, doesn't it?