Sheep Shearing Festival Bike Ride - May 22, 2011

Activity by Michael S.
Photos and report by Ken L. (cell phone photos - sorry!)
Your webmaster recently purchased a bicycle to commute to and from the office, and what better way to try it out than with a ride with long time GONewEnglander Michael S. to the Sheep Shearing Festival in North Andover, MA?
Michael, Ann, and Scott started out from the lower common in Wakefield, MA, but Your Webmaster--not having ridden a bike in, oh, 20 years--decided on something shorter, starting in Harold Parker State Forest at a point along the return trip on Michael's route. The plan was to buzz over to Middleton to catch up with Michael as he was on his way to the Festival, thus cutting the overall route to 22 miles instead of 32. Well, that was the plan anyway...
The Routes...and the "Oops"...

Click here for Your Webmaster's route, about 26 miles
(uhhh...was supposed to be about 22, but that little diversion
that far to North Reading was an "oops"...:-) )

Click here for Michael's route,
about 32 miles
Your Webmaster had intended to arrive early and wait for Michael on Essex St. in Middleton (rightmost point on the maps), but with the...ahem...4-mile "detour", certainly that wouldn't happen, right? Well, Your Webmaster went Haverhill St. to Marblehead St. to Forest St. to Lake St, over 114, down Debush Ave., and pulled into a parking lot to check the GPS on Essex St. in Middleton, a road along Michael's ride. Right at that moment (yes, literally, as the GPS had just booted), Michael came by. Uncanny timing!
Unfortunately for Michael, Ann, and Scott, the dorsal affliction courtesy of Your Webmaster's bicycle seat meant a slow and rather ouchy ride, so Your Webmaster was more of an anchor than anything else. At my urging, they went on ahead, and Your Webmaster just took his time...and frequent breaks. We met up at various stop signs and eventually made it to North Andover Common for the Sheep Shearing Festival.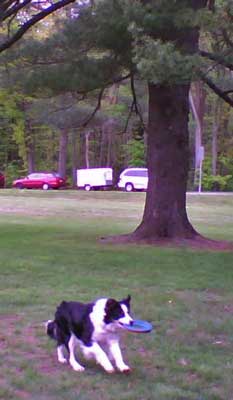 Border Collies rule!!!
People of all ages were at the Common. There were clothing vendors (hey, the 60's are back!) and spin art and sand art booths, and you could get pizza, spices, and artwork. Some people brought their Great Danes (wow, huge), and there was even a Sheltie. Oh, endless Golden Retrievers. They rule, too.
For demonstrations they had sheep shearing and herding.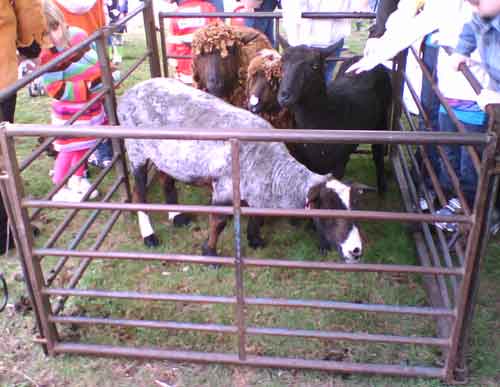 Two down, two to go...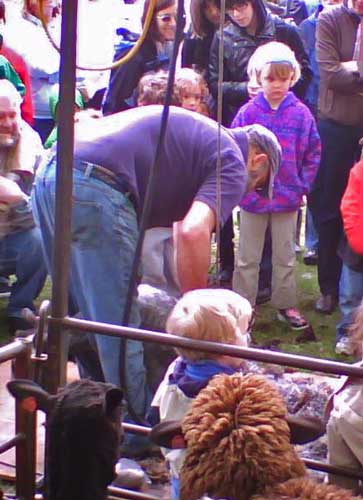 Shearing demonstration. We also got to see how yarn is made from the wool.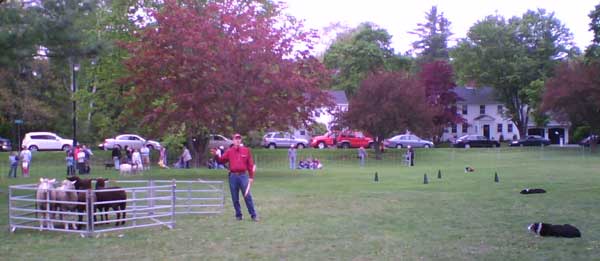 Herding demonstration. The person giving the demo is a local farmer whose dogs
give him a hand every day as he takes care of his sheep, cows, and goats.
His dogs are unbelievably talented and responsive...even
Bonnie, barely out of puppyhood but trying really hard!
Anxious to head out, Scott urged us to get back on the bikes (Your Webmaster? Not so much into it, but...). We went back through North Andover, where there just happened to be a stretch of road torn up ready for pavement, wonderfully bumpy. Ow..ow..ow.........Gee, thanks, Michael!!!! :-) Then it was back into Andover and to Berry Pond in Harold Parker State Forest.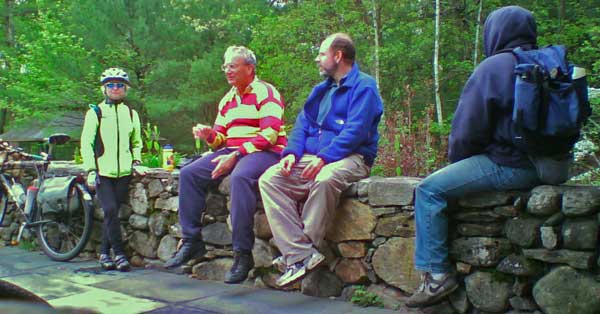 Ann, Michael, Your Webmaster, and Scott at Berry Pond
From Berry Pond it was only a few miles to Your Webmaster's car, and the rest of the crew continued on and back to Wakefield.
Unfortunately some other people who signed up noticed that it was cloudy and only in the 50's, so they declined to come out. We got to enjoy a cool day that never got too hot...nor too buggy. Nice ride...And if my...uhhh...tookus is better by next year, perhaps Your Webmaster will head out again.